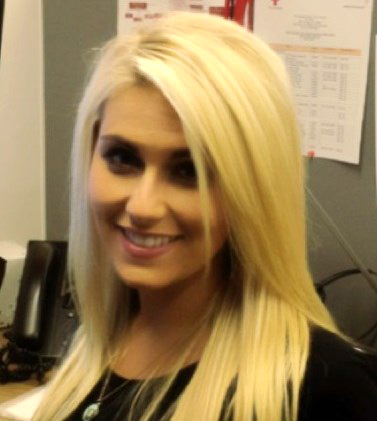 Adelphi has opened up the doors to my career, to say the least. I enjoyed every business and marketing class I took while pursuing my undergraduate degree at AU, but one course in particular had a major impact on my life. When I came across Mr. James Riley's course, "Life in Financial Markets," I immediately signed up. Little did I know, this one credit, 50-minute per week class would lead me to where I am today.
Part of the syllabus for the course was to go beyond the classroom and interact with professionals in different areas of expertise. One day, we had the privilege of going to visit the NASDAQ, where I met Guy Adami, one of the original "Fast Money Five" on CNBC. After keeping in contact with Mr. Adami and seeking his advice on my career, he was able to put me in touch with those who are now my Telemundo family.
Thanks to Mr. Riley, Mr. Adami and some networking on my part, I was able to get an internship with NBC Universal in their Hispanic Enterprises & Content Division (Telemundo National Sales Organization). In 2010, I interned from June to August, and was hired on the last day of my internship as a National Sales Assistant on a part-time basis. I supported the Director of Sales, along with four Account Executives for about 1 ½ years. When I saw a position was going to open a month or so before graduation, I jumped on the opportunity. I was hired as the Executive Assistant to the Senior Vice President of the Telemundo Station Group, and am glad to say I've been in this position for over a year now. My daily tasks vary and I'm able to take part in planning exciting projects and events. Most recently, I worked on the Latin Billboard Awards which was not only an excellent learning experience, but a fantastic opportunity to network and mingle with media professionals from across the country. Needless to say, there is never a dull moment here and I look forward to the next step of my career at this outstanding company.
There is no doubt that working and going to school full-time is a challenge, but if you manage your time the right way and stay determined, you'll go far. There are a few things that I still keep in mind every day: Have confidence, believe in yourself and don't get discouraged. If you doubt yourself, others will too. Surround yourself with people who will encourage you; my family and friends have blessed me with support and believe in me as much as I believe in myself. Never be afraid to ask questions and don't get intimidated! Remember, even the big bosses had to start somewhere. Going to Adelphi was one of the best decisions I've made and I'm forever grateful for the professors and lifelong friends I've made along the way.
This piece appeared in the Career Compass Fall 2013 issue.
About Adelphi: A modern metropolitan university with a personalized approach to higher learning.
Adelphi University is a highly awarded, nationally ranked, powerfully connected doctoral research university offering exceptional liberal arts and sciences programs and professional training with particular strength in its Core Four—Arts and Humanities, STEM and Social Sciences, the Business and Education Professions, and Health and Wellness. Adelphi is dedicated to transforming students' lives through small classes, hands-on learning and innovative ways to support student success.
Founded in Brooklyn in 1896, Adelphi is Long Island's oldest private coeducational university. Today Adelphi serves nearly 8,000 students at its beautiful main campus in Garden City, New York—just 23 miles from New York City's cultural and internship opportunities—and at dynamic learning hubs in Manhattan, the Hudson Valley and Suffolk County, and online.
More than 100,000 Adelphi graduates have gained the skills to thrive professionally as active, caring citizens, making their mark on the University, their communities and the world.