Former Community Fellow Kathryn Graves gets hired by North Shore LIJ.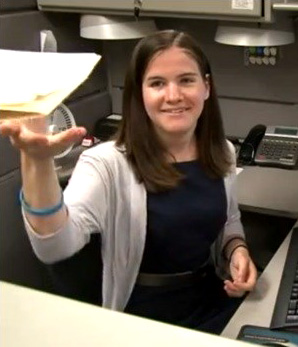 By Kathryn Graves
B.A. in English & Communications, May 2014; M.A. in English Education, May 2015
Former Community Fellow, North Shore – LIJ
Admin Intern, Workforce Readiness at North Shore – LIJ

When choosing my placement in the Community Fellows Program, a friend asked, "What's workforce readiness?" and I replied "I'm not sure, but I'll find out!" I rotated through four teams within North Shore-LIJ Human Resources during my internship as a Community Fellow: Tuition Reimbursement, Retirement, HR Processing, and Workforce Readiness.
Throughout the summer I learned various processes, learned how to use specific software, and most importantly, met some of the remarkable employees at North Shore-LIJ. By working with numerous teams, I gained a comprehensive understanding of the health system. Everyone I worked with was so passionate and dedicated to the core values of the health system: Patients First, Caring, Excellence, Innovation, Integrity, and Teamwork.
After the summer was over, Workforce Readiness hired me to continue my internship during the school year. Through that department, I have helped to enable hands-on learning for high school students through on-site visits to the Patient Safety Institute, Emergency Medical Services, Bethpage Distribution Center and Feinstein Institute for Medical Research. Our department also sends speakers directly to the classroom to show students the importance and relevance of the curriculum.
Working with the Career Center, and participating in the Community Fellows Program, I found a career path that I didn't even know existed. Through this internship, I found a way to use my passion for education to connect industry with education, and enhance students' learning in high schools. I love that I am able to make a positive impact on students' lives while working to develop a great workforce for future generations.
Advice for Students: "While at your internship, remember that your time spent there is an extended job interview as well as a learning experience. Always feel free to ask questions. Without understanding the big picture of the tasks your doing – you won't understand the importance and impact of the job."
About Adelphi: A modern metropolitan university with a personalized approach to higher learning.
Adelphi University is a highly awarded, nationally ranked, powerfully connected doctoral research university offering exceptional liberal arts and sciences programs and professional training with particular strength in its Core Four—Arts and Humanities, STEM and Social Sciences, the Business and Education Professions, and Health and Wellness. Adelphi is dedicated to transforming students' lives through small classes, hands-on learning and innovative ways to support student success.
Founded in Brooklyn in 1896, Adelphi is Long Island's oldest private coeducational university. Today Adelphi serves nearly 8,000 students at its beautiful main campus in Garden City, New York—just 23 miles from New York City's cultural and internship opportunities—and at dynamic learning hubs in Manhattan, the Hudson Valley and Suffolk County, and online.
More than 100,000 Adelphi graduates have gained the skills to thrive professionally as active, caring citizens, making their mark on the University, their communities and the world.